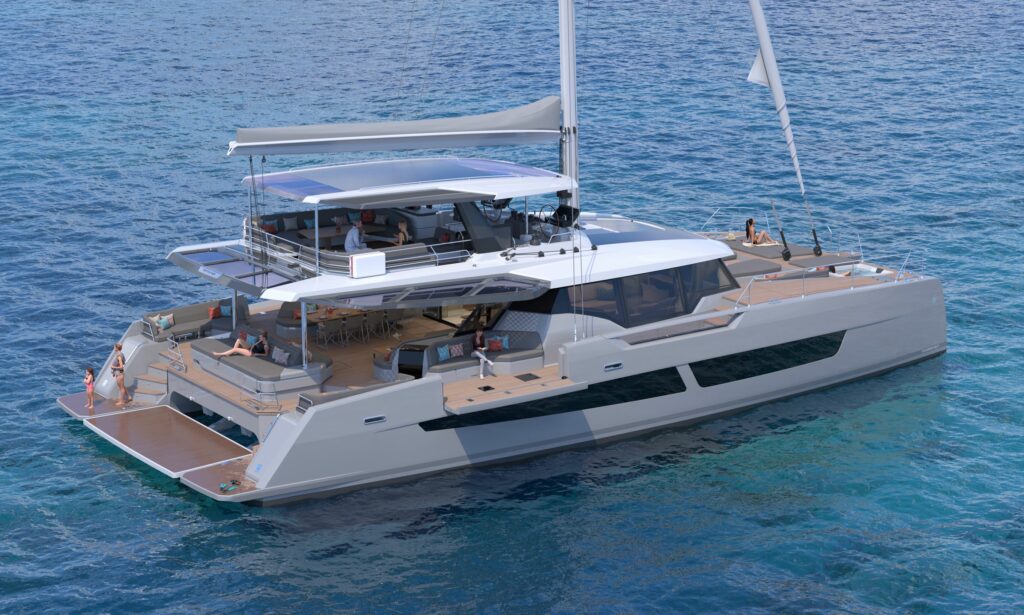 The Berret-Racoupeau Yacht Design agency is particularly proud that at the Cannes Yachting Festival 2022, the Fountaine Pajot shipyard unveiled the outline of the ambitious NEW 80 project. Already in production, this 24-metre Multiyacht should be presented at the same show in a year's time.
Romain Motteau, CEO of Fountaine Pajot, says that the NEW 80 is "really one of the most ambitious projects we have ever had at the yard. Many of the owners of our 67-foot sailing and motor yachts have been asking us for years now to offer a larger boat. This exceptional project has been developed over two years and in great secrecy, thanks to our partner, Berret Racoupeau Yacht Design, with whom we have been doing an extraordinary job for years, and who has done a lot with our Design Office, and given the best of Fountaine Pajot.
Olivier Racoupeau confirms, "Even if the Fountaine Pajot style is there with some familiar elements, the NEW 80 is a real superyacht, emphasizing the lifestyle on board. It is no match for the much larger motor yachts. As it is in the DNA to sail well, even though the NEW 80 is close to a superyacht in many ways, this boat is designed using the same hydrodynamic and ergonomic principles as all other Fountaine-Pajot yachts."
As for the interior of this yacht, Isabelle Racoupeau has designed them "like those of a superyacht, very upmarket, with a very fine selection of materials and particular attention to perceived quality. There is conviviality, but with its large cabins and multiple relaxation areas, there is also intimacy" on board this NEW 80.